You might be interested in Items (Category), containing detailed information about each item.

One of the key goals of March of Industry is to discover as many items as you can. It further has a list of all items, showing which ones you've discovered, and showing "???" for items you haven't: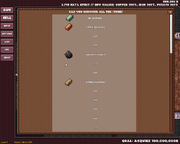 In the list to the right, you can see that the player has discovered Tin, Copper, Carbon, and Bronze, but that is all they have discovered.
There are also two types of items - resources, and weapons. Resources are items which can be combined with other resources to create new resources, or to create weapons. resources usually do not sell for large amounts of money, and do not count towards the Weapon Creation goals. Weapons, on the other hand, will never combine with anything, and are intended purely for profit. The current most profitable weapon is Vladimir Putin's Gym Shorts, which are the only Potato Age weapon to have a 100% profit (they sell for double the cost of manufacturing.)
Warning! The following list contains spoilers.

Item List

| Image | Name | Recipe | Sale Value (B) | Cost (B) | Profit (B) | No. of Raw Components | Tech Age |
| --- | --- | --- | --- | --- | --- | --- | --- |
| | | Raw | | 1 | | | Copper |
| | Copper | Raw | | 1 | | | Copper |
| | Sand | Raw | | 1 | | | Base |
| | Iron | Raw | | 1,000 | | | Iron |
| | Carbon | Raw | | 1,000 | | | Iron |
| | Glycerol | Raw | | 100,000 | | | Potato |
| | Potato | Raw | | 100,000 | | | Potato |
| | Bronze | Tin + Copper | | | | 2 | Copper |
| | Glass | Sand | | | | 1 | Base |
| | Silicon | Iron + Sand | | | | 2 | Iron |
| | Steel | Iron + Carbon | | | | 2 | Iron |
| | Magnet | Iron | | | | 1 | Iron |
| | Disk | Glass | | | | 1 | Base |
| | Internet | Integrated Circuit | | | | 2 | Iron |
| | Integrated Circuit | Silicon | | | | 2 | Iron |
| | Broadcast Tower | Steel | | | | 2 | Iron |
| | Excercise Machine | Magnet + Steel | | | | 3 | Iron |
| | Compass | Magnet | | | | 1 | Iron |
| | Jet Fuel | Carbon | | | | 1 | Iron |
| | High Explosive | Glycerol | | | | 1 | Potato |
| | Vodka | Glycerol + Potato | | | | 2 | Potato |
| | Disk Launcher | Disk | 20 | 1 | 19 | 1 | Base |
| | Vladimir Putin's Gym Shorts | Excercise Machine + Vodka | 406,000 | 203,000 | 203,000 | 5 | Potato |
| | Reddit Moderators | Internet + High Explosive | 1,400 | 101,001 | -99,601 | 3 | Potato |
| | EMP That Only Resets Clocks | Magnet + High Explosive | 151,500 | 101,000 | 50,500 | 2 | Potato |
| | Gun That Shoots Laser Guns | Silicon + Bronze | 20,000 | 1,003 | 18997 | 4 | Iron |
| | Firewall That Makes All Porn Have Realistic Writing | Vodka + Internet | 381,901 | 201,001 | 180,900 | 4 | Potato |
| | Blunderbuss | Bronze | 75 | 2 | 73 | 2 | Copper |
| | Convince Everyone Livejournal is Cool Again | High Explosive + Broadcast Tower | 173,400 | 102,000 | 71,400 | 3 | Potato |
| | GPS | Compass + Integrated Circuit | | | | 3 | Iron |
| | ICBM | GPS + Jet Fuel | 2,500 | 3,001 | -501 | 4 | Iron |
| | Missile | Jet Fuel + High Explosive | 151,500 | 101,000 | 50,500 | 2 | Potato |
| | Inconveniently Small Dragons | Bronze + Jet Fuel | 5,000 | 1,002 | 3998 | 3 | Iron |
| | All Actors Replaced By Jeff Bridges | Disk + Broadcast Tower | 4,000 | 2,001 | 1999 | 3 | Iron |
| | Carrot Top's Excercise Videos | Excercise Machine + Broadcast Tower | 2,500 | 5,000 | -2500 | 5 | Iron |
| | A Guy Named Ivan Who Drinks All Your Vodka | Vodka | 280,000 | 200,000 | 80,000 | 2 | Potato |
| | A Disintegration Ray That Only Destroys Peroshkys | Vodka + High Explosive | 480,000 | 300,000 | 180,000 | 3 | Potato |
| | Emoji Grenade | High Explosive | 130,000 | 100,000 | 30,000 | 1 | Potato |
| | Katana Launcher | Magnet + Disk | 2,000 | 1,001 | 999 | 2 | Iron |
| | Rubber Bullets That Make You Forget the Alamo | Potato + Jet Fuel | 141,400 | 101,000 | 40,400 | 2 | Potato |
| | How to Mess With Texas Informational DVD | Disk + Vodka | 340,001 | 200,001 | 140,000 | 3 | Potato |